ABOUT US
Goodness Meals was born out of our passion for incredible food and it's undeniable impact on health and wellbeing. I want the transition to a healthy, plant powered diet to be wonderfully nutritious, vibrant and exciting for everyone. Not only are all our meals vegan , they are also gluten free , dairy free and don't contain nightshades or refined sugar - above all, they are never ever tasteless or boring!
I can't count the number of times I'd slip up in the early days, simply because I'd be driving home from work exhausted and picking up a takeaway or chucking a garlic bread in the oven seemed infinitely more appealing than chopping vegetables, boiling quinoa and somehow combining everything into something appetising. Now we've done all that hard work for you and we even deliver to your door each week. So all you have to do is sit down to enjoy our gorgeous food and it's wonderful health benefits!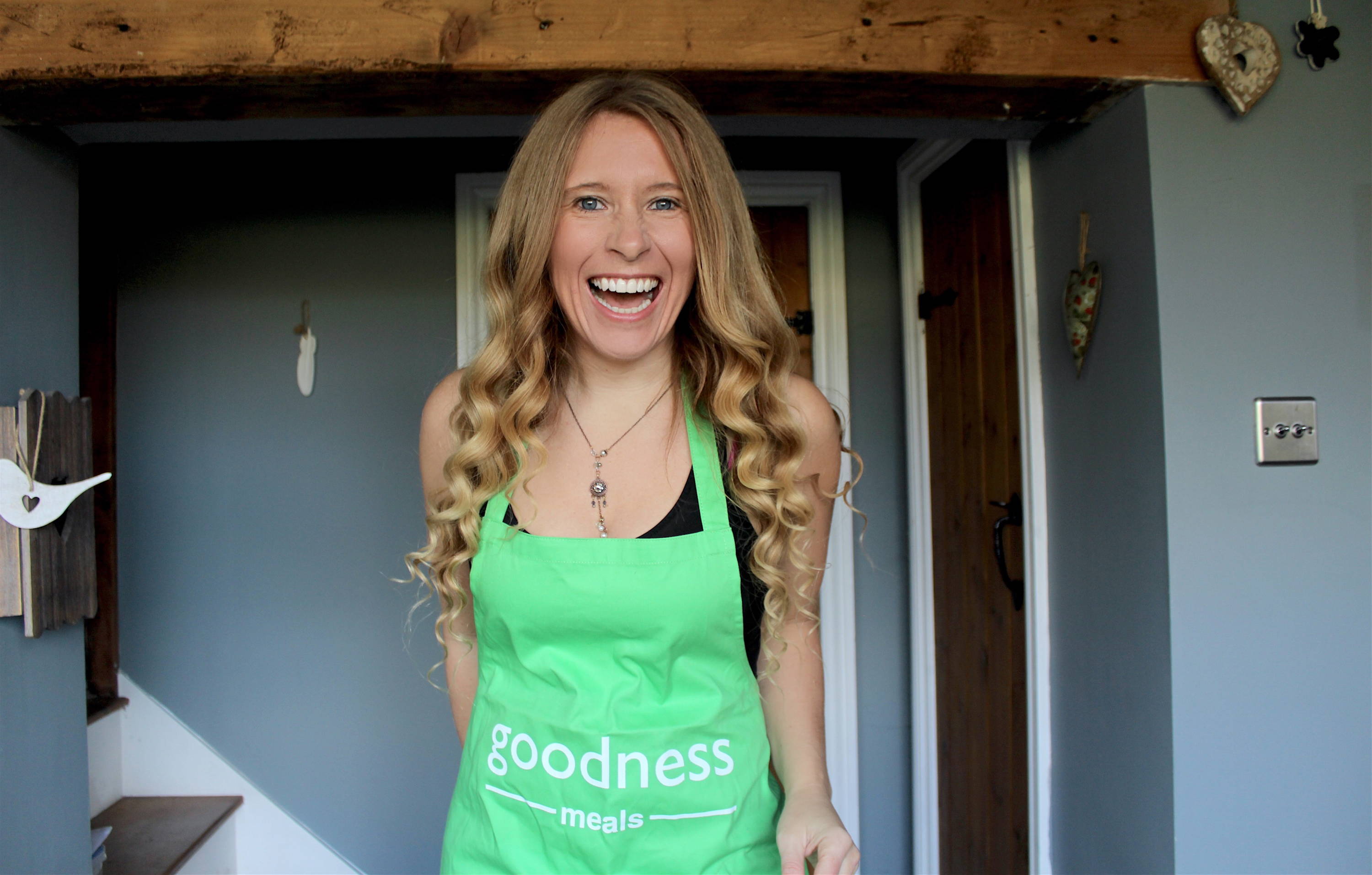 HANNA SILLITOE
Hello, my n ame is Hanna Sillitoe. It may sound a little kooky ... but 4 years ago a little green juice changed my life! After 20 years of battling a life defining skin condition called psoriasis and being told countless times by my Doctors that diet played no role in my health, I turned down medication in favour of switching to a plant powered, gluten free, vegan diet.
It sounds extreme and pretty miserable right? Absolutely not. It was honestly the best decision I have ever made. Not only did my skin start to heal and complexion begin to glow, I had tons more energy, my mind felt clear, I developed the sharpest focus, passion and drive. All this from food? Yes indeed. And this is why I am so incredibly excited to share my recipes with you!
---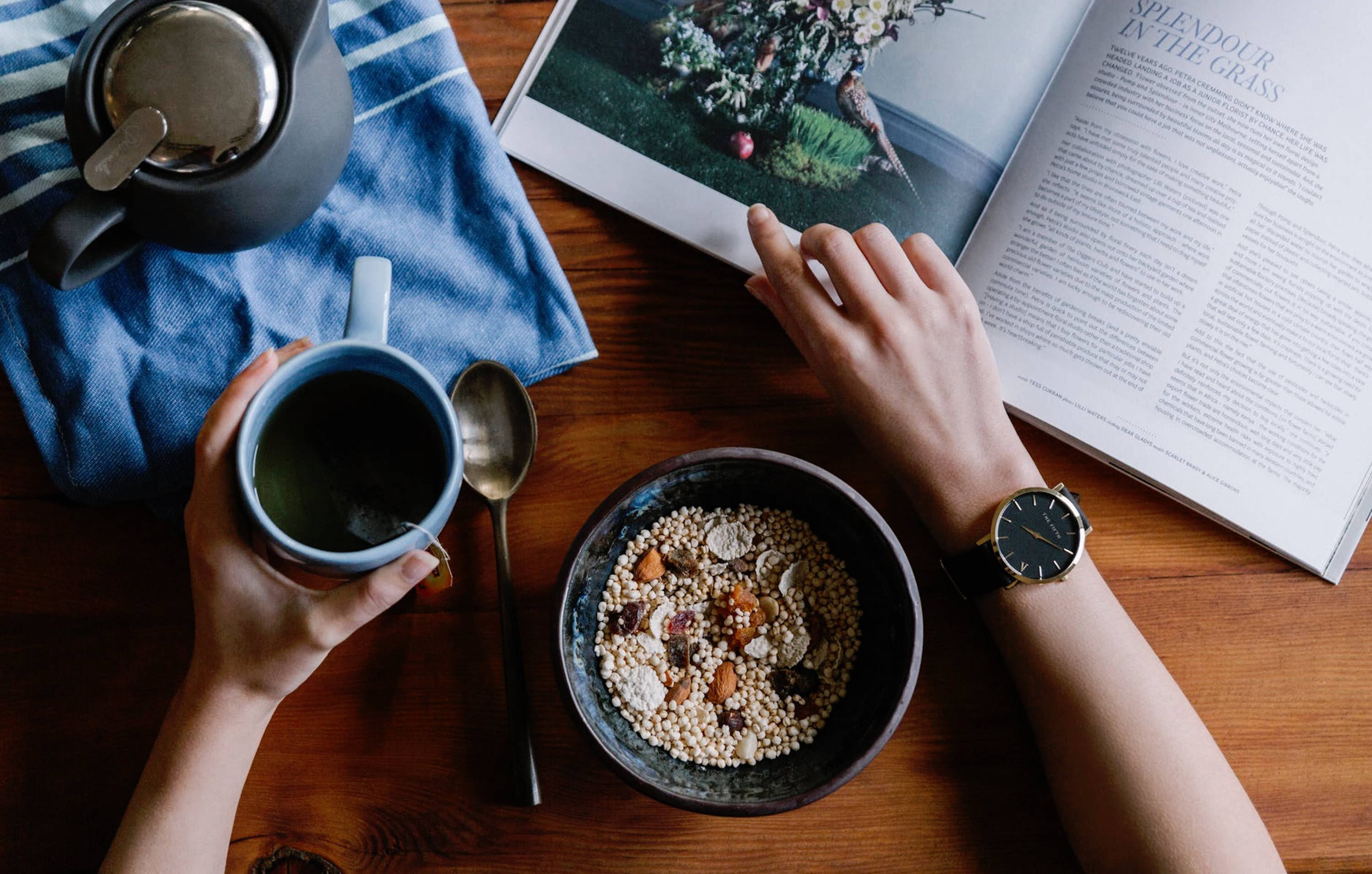 EXCITING PLANT POWER
I was never a chef. I don't have a catering background. My passion for cooking came from this desperate desire to eat something tasty! When I first began eliminating foods from my diet in a concerted effort to heal my skin, I pretty much lived off green juice and salads. I knew that couldn't last forever.
Some people don't mind eating the same thing day after day, but food for me could never be purely a fuel source. It's just so much more than that. It's comfort, it's enjoyment, it's time spent with friends. It's savouring something that feeds my senses just as amply as it feeds my belly! Sticking to a restrictive diet was all well and good for a short while, but if I was going to make this work in the long run I had to get creative.
---
MY FAVOURITE WINTER WARMERS
Winter for me is all about hibernating. The Danes have it right with their principle of Hygge. It's a term that's hard to explain and even harder to pronounce. Hygge (apparently pronounced "Hooga") conjures up images of coziness, creating a warm and comforting atmosphere, the toasty glow of flickering candles and surrounding yourself with knitted throws, faux fur cushions and your closest friends and family.  
My winter appetite completely reflects the season. I need quality AND quantity! The range I've created most definitely encompasses both. Think hearty lavish casserole, warming lentil dahl and a rich and creamy carbonara. Dishes brimming with flavours, colours and textures that will warm and nourish you from the inside. I've loved concocting these meals, they truly represent plentiful home cooked loveliness at it's very best.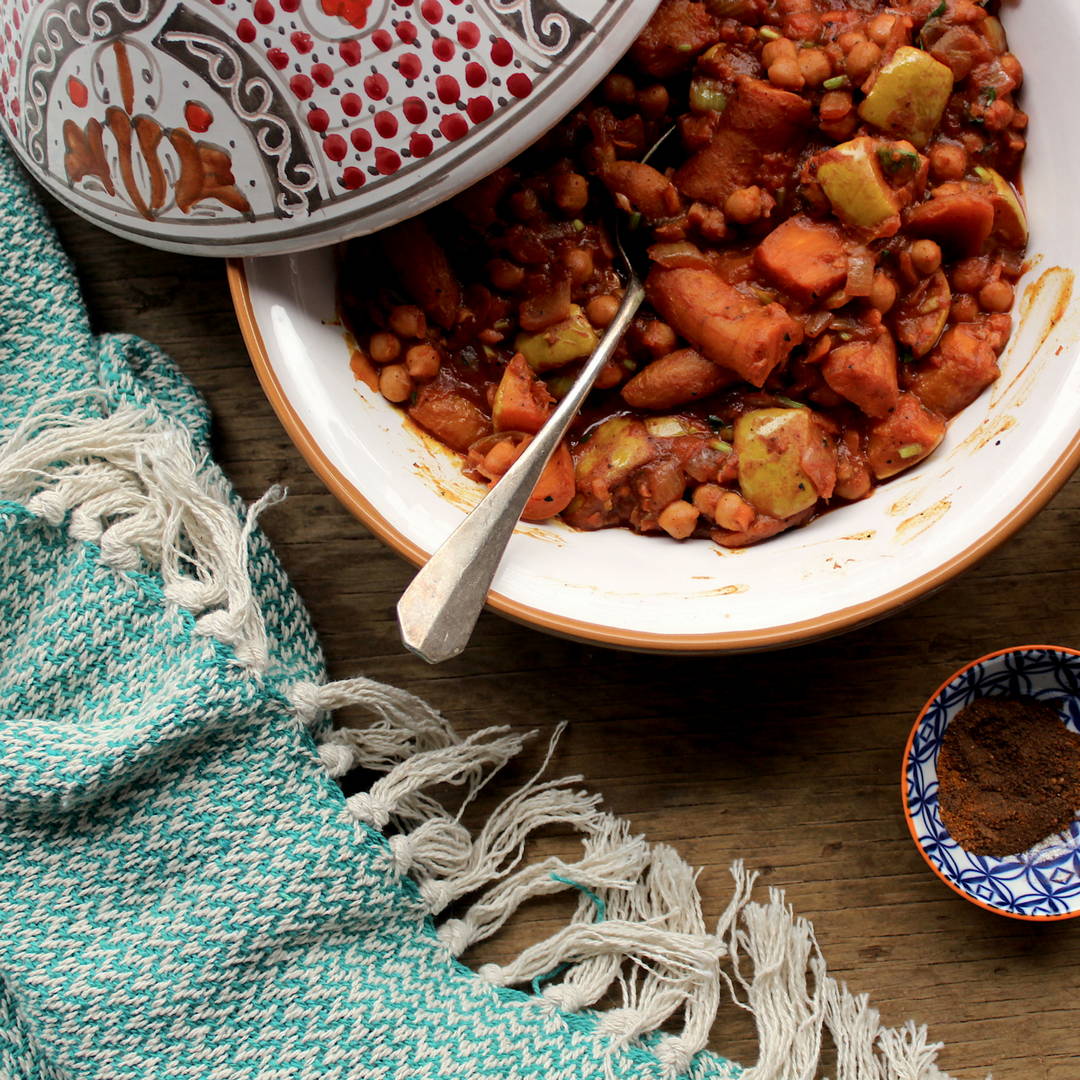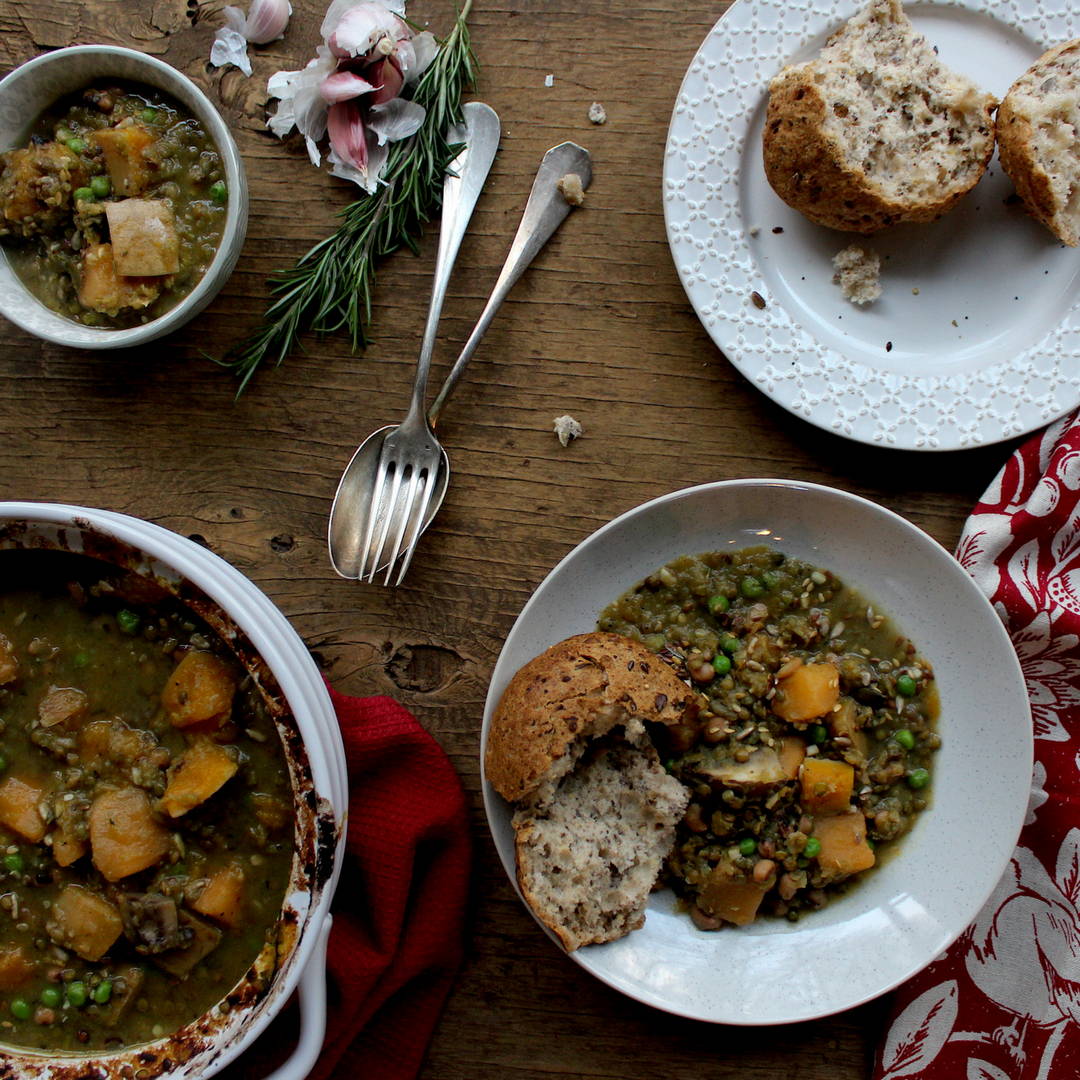 MADE OUT OF PLANTS - NOT IN THEM
There's something about factory produced processed ready meals that tastes, well, factory processed. It's an unpleasant, mass produced, synthetic sort of flavour and that's something I absolutely want to avoid in what we offer. You see, food isn't simply about throwing together a list of ingredients and hoping the combination tastes alright. All sorts of seemingly minuscule details - such as how long the onions are sautéed for, how finely the carrots are diced and the order in which spices are added to the pan have a noticeable impact on the flavour of the dish.
We're a small team of chefs (myself included) working from our beautiful country kitchen. The huge benefit of working this way is that I am personally involved in creating and sampling each and every meal - plus I get to spend time in my favourite place, doing what I love most. The downside is that we're restricted to how many meals we can create and supply at any one time.
For those of you that know me, you will be very aware that I don't do anything without great passion and purpose. This is very much a project born out of devotion. I want to make the transition to a healthy, plant powered life change as effortless and exciting as possible for everyone! I'm not ready to entrust anyone else with this little enterprise.
My desire to ensure our food and service is absolutely unsurpassable means that right now we are only able to offer a limited number of GOODNESS boxes each week.
---
LIMITLESS FOODIE CREATIVITY
When I first began experimenting with solely plant powered ingredients, fathoming new dishes became like a cross between chemistry and art. Being presented with a seemingly restrictive list of 'allowables' and working out how I could make all my old favourites. I craved rich, cheesy pasta and missed spicy Indian curries. The more I learnt through using an incredible abundance of plant powered ingredients, the more I began to share on my blog. In 2017 the blog turned in to my debut book RADIANT, filled with over 100 plant powered recipes and now I want to make it even easier for you to enjoy these meals.
In launching GOODNESS I didn't want to create meals that were merely adequate. My passion for this project was to conjure up plant powered food combinations that would convert even the most hardened carnivore. To offer exciting, inspiring dinners that lack absolutely nothing, regardless of how limited we are in terms of ingredients.
Take away ingredients such as meat, wheat, dairy and nightshades and you'd be forgiven for wondering what's left! But believe me, the combination of plants, nuts, seeds and spices we throw together to create our beautiful dishes are simply heavenly.
I am so proud of the wonderful meal plans we have built and feel super confident that you will not for a second feel as though you're missing out. Quite the opposite in fact. It's my mission to create the tastiest dishes that everyone in the family - regardless of dietary restrictions - can enjoy.
---